---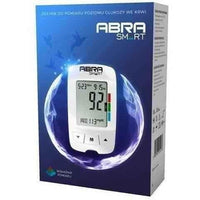 Sale
The ABRA SMART glucometer is a modern device for self-testing of blood glucose levels - a mandatory test for people suffering from diabetes. The camera is easy to use and accurate. The kit includes a lancing device and lancets.
ABRA SMART glucometer The kit includes:
ABRA SMART
glucometer OPTILET mini lancing device with AST tip (1 piece)
OPTILETS disposable lancets (10 pieces)
Instruction for
use of the set
Quick instructions for use of the set Instructions for use of test strips
Batteries 2 x AAA
Case
Operation of the ABRA SMART glucometer:
ABRA SMART Glucometer Kit is a proposal for people who are looking for modern and practical solutions that care about health and who need regular blood glucose monitoring in the course of diabetes. Among the many advantages of the ABRA SMART device, the simple and clear operation is worth mentioning - the meter is equipped with a large display on which the measurement results and all messages controlling the measurement correctness, short measurement time, daily alarms, hypoglycemia and hyperglycemia alarms are displayed. For home blood glucose testing with the ABRA SMART kit, a very small sample of blood from your fingertip or alternative sites is required - you can measure it from your hand or forearm. The meter may only be used by one person. Accuracy in accordance with the ISO EN15197: 2015 standard,
Application of the ABRA SMART glucometer:
ABRA SMART Glucometer Kit is a device for measuring the level of glucose in the blood, intended for home use in people with diabetes in order to monitor the effectiveness of diabetes treatment.
How to use ABRA SMART glucometer Kit:
The ABRA SMART kit may only be used by one person. For the measurement, it is necessary to take a fresh blood sample from the fingertip. With the ABRA SMART kit, it is also possible to collect blood from alternative sites (AST), e.g. from the hand and forearm. All information on preparing for the test, taking a blood sample and reading the results can be found in the package insert.
---