---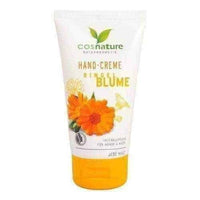 Sale
Intensive hand care provided by the composition of natural ingredients.

Natural protective cream with marigolds is distinguished by hypoallergenic formula with physiological pH and content of organic and organic ingredients.
Ingredients:
Aqua, Helianthus annuus Seed Oil, Caprylic / Capric Triglyceride, Olea Europaea Fruit Oil, Glycerin, Butyrospermum Parkii Butter, Cetearyl Alcohol, Glyceryl Stearate Citrate, Cera Alba, Glyceryl Stearate, Calendula officinalis Flower Extract, Tocopherol, Sodium Benzoate (preservative) Parfum, Citronellol, Limonene, Linalool, Citric Acid, Xanthan Gum.
Action:
Comprehensive skin care and protection. Organic marigold oil, olive oil, Shea butter and beeswax provide the skin with nutrition, moisturizing and greasing. The pleasant consistency of the cream is easily spread and absorbed, leaving no oily layer on the skin, only a subtle, natural scent. Marigold oil has anti-inflammatory, healing, antimicrobial, antiviral and soothing properties. It also helps to speed up the skin renewal. Beeswax is smoothing, elastic and softening, additionally accelerating wound healing and is bactericidal. Shea butter nourishes, greases and regenerates. Its rich composition allows the hands to retain a beautiful and young look for longer. Olive oil perfectly moisturizes and contains unsaturated fatty acids and vitamin E to improve skin condition.
Usage:
Natural protective hand cream with marigold recommended for daily care of dry, sensitive skin of hands.
Additional Information:
Keep out of the reach of children at room temperature. Without parabens, artificial colors, silicone, glycol, phenoxyethanol, GMO ingredients, SLS, PEG.
Contraindications:
Do not use in case of hypersensitivity to any of the cream ingredients.
Directions: Use a
small amount of cream to spread on your hands, wait until absorbed. Use as needed.