---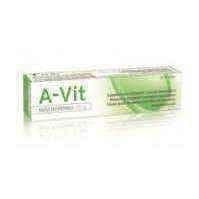 Sale
Ointment with vitamin a. The easiest way to solve the problem of dry and excessively horny skin.

Protective ointment A-Vit with vitamin A effectively soothes irritations and reduces keratosis of the epidermis.
Composition:
Purified Water, Ethylhexyl Stearate, White Petrol, Glycerol, PEG-30 Dipole Hydroxystearate, Dioctyl Ether, Ethylhexylglycerine, retinyl palmitate, fragrance composition.
Action:
Protective ointment with vitamin A A-Vit is a preparation that should be permanently packed in beauticians of people with a strong drying and prone to excessive keratosis of the skin. Ointment with vitamin A accelerates skin regeneration, reduces keratosis, soothes irritations and moisturizes and slightly greases. It protects against the harmful effects of atmospheric conditions, and also has the properties of soothing the effects of sunburn and frostbite.
Use:
A-Vit Aromatic Vitamin A Protective Ointment for use in the case of hyperkalemia and skin irritation of various aetiology. Recommended for excessive dryness of the skin.
Additional information:
The use of ointment may cause symptoms such as erythema or urticaria, and medical consultation is necessary. It is recommended that you consult your doctor before using it in pregnant women. Avoid concurrent use with similar formulas and with dry and astringent cosmetics. Keep product out of reach of children, at room temperature.
Contraindications:
Do not use in case of hypersensitivity to any ointment ingredient. Do not use orally, on mucous membranes or open wounds.
Usage:
For external use only. Thin layer of ointment applied to the skin and gentle movements massage. Repeat application 2-3 times a day.