---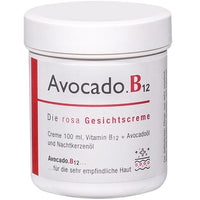 Sale
AVOCADO.B12 face cream, Avocado oil
pack size:100ml Dosage form:cream
Avocado.B12 Avocado oil - the pink face cream

Cosmetics - body care products
For external use of very sensitive and dry skin

Avocado.B12 - the pink face cream is a cosmetic skin care product that uses avocado oil, evening primrose oil, urea and vitamin B12 in a unique galenic to promote skin regeneration and moisture loss reduced. It is so gentle that it is even suitable for children and babies' skin.

The light consistency allows the Avocado.B12 cream to be absorbed quickly without leaving a greasy film and your skin immediately feels noticeably smoother. Sensitive skin is smoothed and soothed, and the skin's own regeneration process is sustainably supported in a natural way.




This is in the formula of the pink care cream Avocado oil, Avocado.B12:

• Avocado oil is rich in vitamin A, vitamin D and vitamin E as well as unsaturated fatty acids. It has a moisturizing effect, smoothes the skin and promotes cell regeneration. Extremely dry, cracked and barrier-damaged skin regains its natural protective function and regenerative power.
• The palmitoleic acid in the avocado fruit means that it is well tolerated, even with hypersensitive and diseased skin conditions such as psoriasis and neurodermatitis, as well as with baby and children's skin. The active ingredients of the cream can be transported into the skin even better thanks to the avocado oil it contains. This makes the skin naturally supple.
• The oil from the seeds of the evening primrose is rich in unsaturated fatty acids that can slow down inflammatory processes.
• Vitamin B12 is considered to be an antioxidant vitamin that has been proven to treat itching and redness. In addition, it gives the Avocado.B12 cream its characteristic pink color.

Recommended use:
Apply a thin layer once or several times a day as required and massage in gently




Avocado oil, Avocado.B12 – The pink cream is vegan, produced regionally and without animal testing, without dyes or fragrances and free of microplastics.


INCI: Aqua, Persea gratissima oil, oenothera biennis oil, propylene glycol, glyceryl stearate SE, ceteareth-25, ceteareth-6, stearyl alcohol, glycerin, cetearyl alcohol, dimethicone, phenoxyethanol, allantoin, disodium EDTA, ethylhexylglycerin, cyanocobalamin, sodium lactate, lactic Acid, TEA-lactate, Serine, Sorbitol, Sodium Chloride