---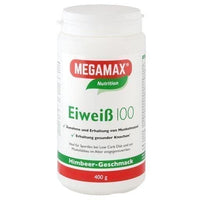 Sale
MEGAMAX protein 100 raspberry powder 400 g


Quality that you can taste. Aspartame free. Delicious protein shake as part of a diet plan and to support muscle building. All ingredients meet the highest quality standards and have been carefully coordinated. Also ideal for vegetarians.


100 raspberry quark Megamax powder Ingredients and product properties :


• High Protein - Low Carb - Low Fat
• 80% whey protein (whey) and milk protein
• Ideal for athletes or as part of a diet plan,
• High biological value 100
• Made in Germany
• Package size: 400 g corresponding to 13 servings each 30 g
• 8 delicious flavors: vanilla, chocolate, cappuccino, hazelnut, strawberry, raspberry, banana and neutral
100 raspberry quark Megamax powder:


MEGAMAX Protein 100 consists of whey protein and milk protein. These proteins support the growth and maintenance of muscle mass and also contribute to the maintenance of normal bones. In addition, MEGAMAX Protein 100 contains a carefully balanced selection of vitamins that are also important for protein metabolism. Vitamin B12, for example, contributes to normal energy metabolism and vitamin C supports the normal function of the immune system during and after intense physical activity.

Proteins are the basic building blocks of life. Protein consists of amino acids and serves the body as the most important building material for muscles, connective tissue, supporting tissue, enzymes, hormones, antibodies and much more. MEGAMAX Protein 100 contains milk protein, which is metabolized somewhat more slowly, and whey protein (whey protein), which is absorbed faster than milk protein. In this two-component protein, a "slow" and a "fast" protein are combined with one another. Of all protein sources, whey protein has the highest biological value (104). This number indicates how well a dietary protein can be converted into the body's own protein.


100 raspberry quark Megamax powder Application:

Stir two tablespoons (approx. 30 g) into 300 ml of water or skimmed milk and shake vigorously with the MEGAMAX blender for approx. 30 seconds. Drink preferably between meals and after training, or as part of a calorie-restricted diet according to a plan. Eat a varied, balanced diet and a healthy lifestyle.
Storage: Store in a cool (6 - 25 ° C), dry place, protected from sunlight and out of the reach of children.


100 raspberry quark Megamax powder  Contents:
400 g powder.

Package sizes: 30 g, 400 g, 750 g, 5 kg.

The MEGAMAX quality and guarantee promise - for over 20 years
MEGAMAX products have been meeting the highest quality standards in terms of design, sustainability, raw material selection, bioavailability and processing

✔ Manufacture in Germany
✔ from the best raw materials
✔ in the most modern manufacturing plants according to GMP (= Good Manufacturing Practice)
✔ permanent quality controls according to HACCP safety
concept ✔ with the quality certifications DIN ISO 9001: 2000 and IFS (International Food Standard).