---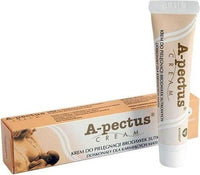 Sale
A-Pectus cream nursing nipple 15ml, women breastfeeding
Women breastfeeding A-Pectus cream to nurture the nipples due to the content of lanolin cosmetics is responsible for the strong regenerating and soothing. It reduces pain and softens the skin tight.
A-Pectus cream women breastfeeding Ingredients:
100% natural lanolin purified. It contains no preservatives or fragrances.
Action:
A-Pectus cream nursing nipple is a unique product designed for local use. It is characterized by a simple composition. It contains 100% natural purified lanolin, which has a soothing and soothing. It increases hydration and contributes to the renewal of damaged skin and warts. It increases flexibility and coated with a protective skin barrier. It works soften the tight skin, reducing felt during breast-feeding discomfort (eg. Pain). A-Pectus cream nursing nipple prevents the formation of papillary irritation. It is extremely easy and convenient to use. It distributes well on the skin. Moreover, it is safe to use.
Contraindications:
- Hypersensitivity to the active components of the preparation
Indications:
It is recommended to use the cream in order to cultivate the nipples in breastfeeding women, who experience pain and discomfort due to frequent irritation.
How to use:
Apply topically. A small amount of cream gently spread on sore nipples. Apply after feeding or as part of prevention. Before feeding does not need to rinse the cream.
---