---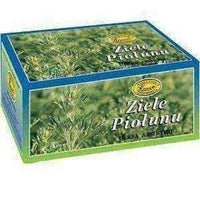 Sale
ANOREXIA (absinthium, eating disorders) can be a symptom of severe digestive system disorders, eg improper digestion of digestive acids. To increase appetite, it is advisable to introduce to her diet a herbal tea from wormwood, which stimulates the secretion of digestive juices.
Ingredients:
Absinthi herba - 100%.
Action:
Absinthium herbal tea / fixing herbs fixes the problem of fagots, ANOREXIA. An appetite disorder can be caused by insufficient amounts of digestive juices. Stimulating the secretion of substances involved in digestion are bitter herbs such as wormwood. Tea increases appetite and facilitates digestion.
Use:
Absinthium / Poultice is recommended to support appetite.
Additional information:
Store at room temperature in a dry and dark place, non-porous. Avoid contact with other odors.
Contraindications:
Do not use in the case of gastric or duodenal ulcer, hyperacidity, children under 14 years of age and in pregnant and lactating women.
How to use:
Prepare the infusion: 1 sachet poured with a glass of boiling water. Steep under cover for 10 minutes. Drink a glass of infusion about 30 minutes before a meal. Take the infusion 2-3 times a day.
---