---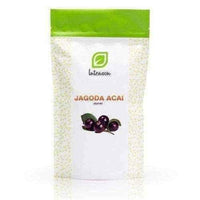 Sale
Acai Berries is for people active and conscious about their health. Acai Berries concentrated formula 4: 1 makes enough to take small portions of extract to feel the effect!
Ingredients:
extract acai berry - 100%.
Action:
Acai berries growing in the forests of the Amazon are widely known for their health-promoting properties. Intenson created a product acai berry extract 4: 1 especially for people who appreciate high quality products. What makes acai berry extract is so amazing? First of all, that each kilogram of extract is formed up to 4 kg of berries! They contain many important for the good condition of the body components, in particular antioxidants, which protect cells from oxidative stress.
Application:
Extract Acai Berry 4: 1 is recommended as part of a healthy and balanced diet, ideal especially for physically active people.
Additional information:
Keep out of reach of children, at room temperature. The product is produced in a plant, which uses include nuts, peanuts, sesame seeds, as well as products comprising sulfur dioxide, eggs, gluten, celery, milk.
Contraindications:
Do not use in case of hypersensitivity to acai berry.
Usage:
The recommended daily dose: 1 teaspoon (4g). The extract may be added to the cocktail, yogurt, desserts, smoothie or dissolved in water. The mixed powder preferably in water to drink approximately 30 minutes before eating.
Net weight: 200g.