---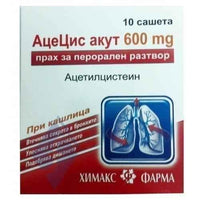 Sale
AceCis Acute is a medicine that contains acetylcysteine. It liquefies secretions in the bronchi, facilitates expectoration and improves breathing.
AceCis Acute is used in diseases of the respiratory system associated with increased formation and difficulty in secreting bronchial secretions, such as acute and chronic bronchitis (inflammation of the bronchi), bronchiectasis (permanent bronchodilation), chronic obstructive pulmonary disease (prolonged lung disease). , accompanied by cough, sputum production and difficulty breathing), cystic fibrosis (congenital disease accompanied by the formation of thick secretions in the lungs and other organs).

What you need to know before you use AceCis Acute
Do not use AceCis Acuteif you are allergic to acetylcysteine ​​or any of the other ingredients of this medicine.
It is important to know that this medicine should be used with caution if:
· You suffer from bronchial asthma;
· You have or have had a stomach or duodenal ulcer;
· You have histamine intolerance, the symptoms of which are headache, profuse nasal secretions, itching.
If redness, blistering of the skin, mouth, genitals or any other new changes in the skin and mucous membranes occur, you should stop using AceCis Acute and contact your doctor. These may be signs of severe skin reactions such as Stevens-Johnson syndrome or Lyell's syndrome, which, although rare, may develop after taking acetylcysteine.
This medicine can be used by adults and children over 14 years of age. Younger children should be given an appropriate medicine that contains less acetylcysteine.
In young children and many adults with respiratory problems, the product should only be used after a doctor's appointment.

Other medicines and AceCis Acute
Tell your doctor or pharmacist if you are taking, have recently taken or might take any other medicines.

You need to know that this product may change the effect of some medicines taken at the same time. Therefore, it is especially important that you tell your doctor if you are taking:
Antibiotics, such as tetracycline, cephalosporins, penicillins - It is possible that their effect may be weakened when used concomitantly with acetylcysteine, so there should be an interval of at least 2 hours between doses of individual drugs;
Cough suppressants - Dangerous retention of bronchial secretions is possible when co-administered with acetylcysteine, as these drugs suppress cough, making it difficult to expel acetylcysteine ​​liquefied secretions;
Nitroglycerin - Acetylcysteine ​​may potentiate the effects of nitroglycerin.
AceCis Acute with food, drink and alcohol
The effect of acetylcysteine ​​is enhanced by drinking larger amounts of fluids. This medicine should be taken after a meal.

Pregnancy, breast-feeding and fertility
If you are pregnant or breast-feeding, think you may be pregnant or are planning to have a baby, ask your doctor or pharmacist for advice before taking this medicine.
The use of this drug in pregnant and lactating women is undesirable. Its use during pregnancy and lactation should be done only in cases of proven need.
Your doctor will decide if it is possible for you to be treated with this medicine if you are pregnant. He will evaluate the balance between the benefits for you and the risks for your baby.
Your doctor will decide if you need to stop breast-feeding during treatment with acetylcysteine.

Driving and using machines
AceCis Acute does not affect your ability to drive or use machines.

AceCis Acute contains sucrose
This product contains sucrose as an excipient and is therefore unsuitable for people with congenital or acquired intolerance to certain sugars. If you have been told by your doctor that you have this intolerance, talk to your doctor before taking this product.
The product contains 2.6 g of sugar in one dose (0.21 carbohydrate units), which should be taken into account in patients with diabetes.

AceCis Acute Dosage:
Always use this medicine exactly as described in this leaflet or as your doctor or pharmacist have told you. If you are not sure, talk to your doctor or pharmacist.

The recommended dose is:
Adults and children over 14 years
One sachet (600 mg) daily.
The duration of treatment is determined individually. In acute diseases and conditions the usual duration is 5 - 10 days, and in chronic diseases up to several (1 - 2) months.

Method of administration
The product is taken after a meal.
Dissolve the contents of one sachet in a sufficient amount of hot or room temperature water and mix well until a homogeneous solution is obtained.
It is obligatory to consult a specialist in case your condition does not improve after 4-5 days of treatment.

AceCis Acute Ingredients:
The active substance in 1 sachet is: acetylcysteine ​​600 mg.
The other ingredients are: sucrose, ascorbic acid, betadex, colloidal anhydrous saccharide dioxide and lemon and orange aromas.