---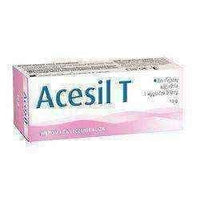 Sale
Acesil T silicone gel adjuvant treatment of scars is the ability to improve the appearance of the skin. Gel not only lightens scars, but also reduces the overgrowth of fibroblasts and relieves tension and itching of the skin.
Composition:
copolymer of dimethicone, dimethicone, propylene glycol, purified water, extract of bearberry (Arctostaphylos uva-ursi L.), a copolymer of sodium acrylate and sodium akrylodimetylotauronianu, isohexadecane, polysorbate 80, cyclopentasiloxane dimetykonol, sodium heparin, allantoin, isoquercetin.
Action:
Silicone gel Acesil T significantly reduces the visibility of scars, thanks to their smoothing and brightening for which corresponds to an extract of bearberry. The formulation reduces the proliferation and growth of fibroblasts, and inhibits excessive production of collagen, which prevents the ingrowth of scar tissue. In addition, T Acesil effectively reduces the stress due to the skin and itching of the healing process, thus eliminating the irritation caused by frequent changes of the surrounding area by scratching the skin surface. Thanks to its unique properties, reduces the possibility of improper scarring. Allantoin accelerates the process of healing and regeneration of the skin, and also has moisturizing and soothing.
Application:
The product Acesil T gel is designed to reduce the visibility of scars, scars, traumatic scars and pooparzeniowych causing muscle spasms.Also effective in the treatment of keloids and hypertrophic scars.
Additional information:
Avoid contact with eyes. Do not use if allergic to any component of the product.
How to use:
Apply externally. Place the product spot on clean, undamaged surface scars. Gently massage. Use 3-4 times a day for at least four weeks.