---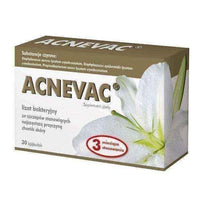 Sale
Acnevac. Innovative dietary supplement containing lyophilisate of three bacterial strains, most commonly contributing to the development of skin diseases such as acne vulgaris, gastritis, eczema.
Ingredients:
One capsule contains 5mg of active substance, obtained by lyophilization of inactive microorganisms: Staphylococcus aureus lysatum cryodessicatum (CCM 7587), Propionibacterium acnes lysatum cryodessicatum (CCM 7583), and potato starch, lactose, silicon dioxide (fillers). Information about allergens: contains lactose.
Action:
Acnevac is a preparation that can be used both adjuvantly and prophylactically in skin diseases. It is a combination of three lysates, ie highly purified and, above all, innocuous parts of inactivated microorganisms, one of the most common causes of dermatitis including microbial eczema, acne or acne vulgaris. The micro-organisms contained in the capsules are: Staphylococcus aureus (Staphylococcus aureus - responsible for skin, soft and subcutaneous infections); Staphylococcus epidermidis (Staphylococcus epidermidis, can cause infections in immunocompromised individuals); Propionibacterium acnes (the cause of acne, in immunocompromised individuals can cause infection).
Use:
Acnevac 5mg dietary supplement is intended to be used as a supplement to the diet to help promote proper skin function, especially for skin diseases such as acne vulgaris. May be used in adults and children over 7 years of age.
Additional Information:
Dietary supplement can not be used as a substitute for a varied diet and healthy lifestyle. Keep product out of the reach of children at room temperature. Use in pregnant women, breastfeeding mothers and younger children should first consult a doctor.
Contraindications:
Do not use in case of hypersensitivity to any of the supplements. It is not recommended to use concomitantly with other immunobiological preparations.
Directions for use:
Recommended daily dose: one capsule. The preparation should be taken in a specific way. For the first 10 days, take one capsule, it is recommended to use fasting. After these 10 days, take 20 days off, then resume the treatment by taking one capsule for another 10 days. Again, take 20 days off and then take the preparation for 10 days. At the end of the basic cycle (30 capsules), you can resume the treatment after another break (20 days). In order to achieve a long-lasting effect, you may have to do the treatment several times a year, but only after consultation with your doctor. Do not exceed recommended servings for consumption during the day.

Package size: 30 capsules
Details. acnevac.