---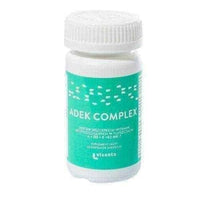 Sale
ADEK VITAMINS. The set of all fat-soluble vitamins can be found in dietary supplement ADEK Complex. Each capsule contains a dose of vitamins dissolved in linseed oil, which itself is a component with exceptional properties.
Ingredients:
Linseed oil, gelling agent gelatin beef, humectant glycerol, vitamin K (K2 menaquinone-7 CRYSTALS), vitamin E (D-alpha-tocopherol), vitamin D3 (cholecalciferol from lanolin), color: yellow iron oxide, vitamin A (retinyl palmitate), color: red iron oxide.
Content of components in recommended daily dose (one capsule): vitamin A (retinol equivalent) - 588mcg (1959IU, 73.5% RWS), vitamin D3 (cholecalciferol) - 50mcg (2000IU, 1000% RWS), vitamin E (equivalent alpha- tocopherol) - 10mg (83.33% RWS), vitamin K (K2 menaquinone-7) - 50mcg (66.66% RWS).
RWS - Reference intake of an average adult (8400kJ / 2000kcal).
Action:
If you are looking for a preparation containing a full set of fat-soluble vitamins, be sure to try a dietary supplement brand Visanto ADEK Complex. It includes vitamin C in the form of menaquinone-7 and vitamin A, D and E. These are all extremely important for the proper functioning of the body. Vitamin A assists proper vision, vitamin D has a beneficial effect on bones, muscles and resistance, vitamin K also promotes bone and is necessary for proper blood clotting, and the Vitamin E is a powerful antioxidant.
Application:
Dietary supplement ADEK Complex intended to be used as a supplement to your daily diet important for the functioning of vitamins A, D, E and K.
Additional information:
Food supplements should not be used as a substitute for a varied diet and a healthy lifestyle. Keep out of reach of children, at room temperature. Protect from light.
Contraindications
not be used in case of hypersensitivity to any component of the supplement.
Usage:
The recommended daily dose: one capsule. Take after a meal. Do not exceed recommended servings for consumption during the day.