---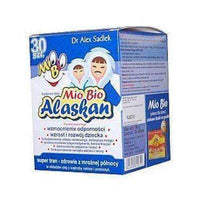 Sale
BIO MIO ALASKAN as tasty jellies that are sure to like each toddler.

A set of components that are contained in the formula MioBioAlaskin good job affects the immune and nervous systems of children and supports the efficient development and growth.
Composition:
Glucose syrup, sugar, water, gelatin, shark liver oil, cod liver oil, acidity regulator citric acid, inulin, substance glazurująca- carnauba wax, vegetable oil, flavoring, coloring (E102, E 124, E 110 E 133).

Action:
The preparation should be made to the broad category of dietary supplements of natural origin. Its receipt by fatty acids omega-3 stimulates the natural defense mechanisms, thereby enhancing immunity. Additionally, it promotes the functioning of the nervous system regulates the concentration of cholesterol in the blood. Vitamin D strengthens bones and teeth, and the vitamin A is involved in the visual process. Inulin helps maintain compatible with standard bacterial microflora.

Indications:
Use in children to support the functioning of the immune system and nervous system, as well as normal growth and development.

Dosage:
It is recommended that jellies 2 / 24h.