---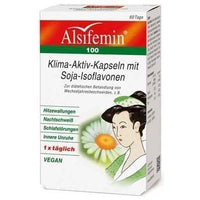 Sale
ALSIFEMIN
®
100 Klima-Aktiv capsules with soy isoflavones
Dietetic food for special medical purposes (Balanced Di & aml; t) with 13% soy isoflavones
Alsifemin 100 Klima-Aktiv capsules are a dietetic food for special medical purposes. They contain an isoflavone-rich soy extract as well as vitamins, minerals and lecithin in a balanced dosage.
Alsifemin 100 Active Climate Capsules are suitable for the dietary treatment of menopausal symptoms.
With the symptoms of menopause, the medically-related need for nutrients is increased and cannot be covered in a long-term practicable manner through normal nutrition.
Alsifemin 100 Climate-Active Capsules have the properties of treating the typical symptoms of menopausal women such as hot flashes, night sweats and sleep disorders as well as inner restlessness with a diet.
The product's own Alsifemin study has proven the listed characteristics and properties in women who had supplemented their diet with just one capsule of Alsifemin 100 Klima-Aktiv capsules per day.
ALSIFEMIN 100 Klima-Aktiv with soy Important note: Supplementary balanced diet. Use only under medical supervision and, if necessary, consult with your nutritionist.
Due to the special nutritional requirements, the content of the vitamins and minerals contained differs from the requirements of the diet regulation.
Store dry and not above 25 ° C.
---