---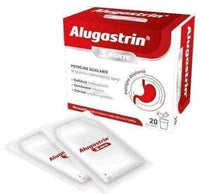 Sale
Alugastrin 3 Forte x 20 sachets
The Alugastrin 3 Forte medical device recommended for the treatment of gastroesophageal reflux contains the natural Mucosave complex, calcium carbonate and sodium alginate. Thanks to them, it inhibits reflux, reduces acidity and protects the stomach and esophagus.
Composition of Alugastrin 3 Forte:
Mucosave, (extract of prickly pear and olive leaves), sodium alginate, calcium carbonate, maltodextrin, fructose, sucralose, silica, flavors.
Operation of Alugastrin 3 Forte:
The medical device Alugastrin 3 Forte is indicated in the case of gastroesophageal reflux. It provides a triple effect in the treatment of recurrent heartburn. The natural Mucosave complex (extracts of European olive leaves and fig opuntia leaves) helps protect the stomach and esophagus by creating a protective coating on the mucosa. Sodium alginate inhibits reflux, as it turns into a gel on contact with stomach acid, which prevents the acid from flowing back towards the esophagus. In addition, calcium carbonate reduces acidity by reducing gastric acidity. The preparation is a powder to be dissolved in water with a vanilla flavor.
Application:
Alugastrin 3 Forte medical device intended for use in the treatment of gastroesophageal reflux.

Additional information:
Store the product out of reach of children at room temperature. It is recommended to protect against the effects of moisture and light. Due to the sodium content, caution should be exercised in people with hypertension, heart failure or renal failure. The possibility of using the preparation in pregnant women and children under 12 years of age should be discussed with your doctor.
Contraindications:
Do not use in case of hypersensitivity to any component of the preparation.
How to use Alugastrin 3 Forte sachets:
It is recommended to use one sachet a day - in the evening before bedtime. Alternatively, if necessary, you can take a second sachet during the day - after a meal. Pour the contents of the sachet into a glass, pour still water to half the glass, mix thoroughly until a homogeneous suspension is obtained. Drink. Treatment should be carried out for a maximum of 30 days.
---