---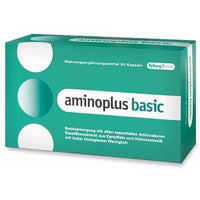 Sale
Amino acid supplements aminoplus® basic capsules
 
Food supplement with 21 amino acids.
Protein concentrate made from potato and chicken protein with high biological value
aminoplus® basic with all essential amino acids to maintain a healthy and intact organism.

The areas of application for Amino acid supplements aminoplus® basic:
• Convalescent
• Dieters
• Irregular meals
• Vegetarians
• Regular medication
• When there is increased pressure to perform
• Athletes
• In the growth phase

Amino acid supplements Ingredients:
Protein concentrate from potato and chicken protein; L-phenylalanine, L-methionine, L-leucine, L-lysine, L-valine, L-isoleucine, L-threonine, L-glutamine, L-arginine, L-histidine, taurine, glycine, L-cysteine, L- Tryptophan, L-proline, L-tyrosine, L-aspartic acid, L-serine, L-glutamic acid, L-alanine, L-ornithine, coloring: titanium dioxide in the cellulose capsule.
Food supplements Amino acid supplements. The recommended daily intake must not be exceeded.

Dietary supplements Amino acid supplements are no substitute for a balanced, varied diet and a healthy lifestyle.

Keep away from children!
---