---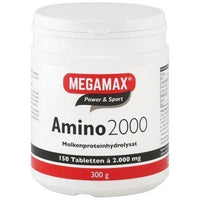 Sale
Amino acids MEGAMAX Amino 2,000 tablets 150 pc
all amino acids for optimal muscle building and muscle

maintenance MEGAMAX Amino 2,000 contains the complete amino acid spectrum from all 18 amino acids in an optimal composition and in a ratio that corresponds to the natural needs of the body. Due to their special structure, the amino acids contained are quickly absorbed by the body.

Amino acids Ingredients and product properties : Whey protein hydrolyzate with 18 amino acids in L-form
Whey protein hydrolyzate with the highest biological value 104
supports muscle building (bulk phase) and muscle maintenance (diet phase)
Alternative or supplement to protein shakes Coated
with a special cellulose film, easy to swallow
Contents 150 tablets, made in Germany

Who are MEGAMAX Amino 2.000 for?

Endurance athletes take 3 to 4 Amino 2,000 tablets before starting their training or competition in order to largely avoid muscle loss. Strength athletes take these immediately after training to support muscle building (anabolic). 10 Amino 2.000 tablets contain 14 g protein and approx. 3 g BCAA, which corresponds to approx. 21% BCAA of the total protein.

In the build-up phase, the amino acids support muscle building, in the diet phase they prevent muscle breakdown and help maintain muscle mass. Dietary supplements with MEGAMAX Amino 2,000 are also useful for people who have a one-sided diet and consume little protein with their food to counteract muscle loss. This is particularly important for all people over 50 years old, because sarcopenia in old age (age-related muscle breakdown) leads to a loss of strength and reduced performance and, in the long term, to immobility. MEGAMAX Amino 2.000 can therefore make an important contribution as a supplement to a balanced diet.

What are Amino Acids?

Amino acids are the basic building blocks of the human body. Protein consists of amino acids and serves as the most important building material for muscles, connective tissue, supporting tissue, enzymes, hormones, antibodies and much more. Protein, also called protein, helps maintain and increase muscle mass and also helps maintain normal bones.

As a component of enzymes, neurotransmitters and hormones, amino acids regulate many biological metabolic processes. Amino acids or the proteins made from them also serve as transporters in the blood, are involved in blood clotting and ensure a strong immune defense.

The amino acids and proteins are subject to constant build-up, breakdown and remodeling in the human body. Therefore we always need sufficient amounts of protein or amino acids in order not to get into a catabolic (degrading) metabolic situation.

Amino acids are divided into essential and non-essential amino acids. Amino acids are called essential which the body cannot produce itself and which are dependent on the intake of food. Amino acids are called semi-essential, which in certain situations cannot be produced in sufficient quantities. For example the amino acid L-arginine in the growth phase. All other amino acids that can be built up from other amino acids are therefore not essential.

BCAA (branched chain amino acids)

BCAA occupy a special position. The abbreviation BCAA stands for branched-chain amino acids. They got their name from their molecular structure. These are the essential amino acids L-leucine, L-isoleucine and L-valine. BCAA are absorbed directly from food and travel through the bloodstream to the muscles, where they are metabolized. Muscles contain up to 35% BCAA. So they are an important building material.

In extreme situations, with long-lasting training units or long-term loads such as marathons, triathlons, bike races, etc., the energy production from amino acids can amount to up to 10%. This energy requirement can often not be balanced by diet alone. However, if there is not enough BCAA in the blood, muscles are broken down in order to stabilize the blood sugar level via a biochemical detour. Catabolism occurs. Possible negative consequences are premature fatigue, a drop in performance and a decrease in the ability to concentrate.

MEGAMAX Amino 2.000 contains all 3 BCAA and can significantly improve the supply of the body and thus the performance.
If you only want to supply BCAA, we recommend MEGAMAX BCAA 1,200 mg tablets - PZN 06735369 or MEGAMAX BCAA 1,000 mg capsules - PZN 14132113.

Amino acids Ingredients: Whey
protein hydrolyzate, microcrystalline cellulose, vegetable fat (hardened), methyl hydroxypropyl cellulose (coating), release agent silicon dioxide , Acetic acid esters of mono- and diglycerides (coating). Note for allergy sufferers: Contains whey protein hydrolyzate.

Application:
3 tablets three times a day, preferably between meals, before and after training / competition and before going to bed. The Amino 2000 tablets are coated with a special cellulose film and can therefore be swallowed easily despite their size. Alternatively, the tablets can be crushed in a mortar and stirred into quark. Eat a varied, balanced diet and a healthy lifestyle.

Amino acids Storage:
Store in a cool (6 - 25 ° C), dry place, protected from sunlight and out of the reach of children.
Contents: 150 tablets.
Pack sizes: 100, 150 and 300 tablets.

The MEGAMAX quality and guarantee promise - for over 20 years
A big advantage of MEGAMAX Amino 2,000 tablets is the good usability of the amino acids. MEGAMAX products meet the highest quality requirements in terms of conception, sustainability, raw material

selection , bioavailability and processing through ✔ Manufacture in Germany
✔ From the best raw materials
✔ In the most modern manufacturing plants according to GMP (= Good Manufacturing Practice)
✔ Permanent quality controls according to HACCP safety
concept ✔ With the quality certification DIN ISO 9001 : 2000 and IFS (International Food Standard).
Food supplements Amino acids. The recommended daily intake must not be exceeded.

Dietary supplements Amino acids are no substitute for a balanced, varied diet and a healthy lifestyle.

Keep away from children!
---