---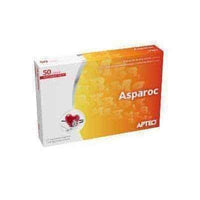 Sale
Potassium chloride, magnesium carbonate. APTEO Asparoc is a product that will help you to take care of your heart and circulatory system.

Optimal doses of thiamin, potassium and magnesium will help keep the heart muscle in good condition and adjust your blood pressure.
Composition:
1 tablet contains the active ingredients: Potassium Chloride (Potassium) - 54mg (2.7% ZDS *); Magnesium carbonate (magnesium) - 17mg (4.5% ZDS *); Thiamine hydrochloride (vitamin B1) - 0.1mg (9.1% ZDS *) and excipients: cellulose (filler); Magnesium salts of fatty acids, silicon dioxide (anti-caking agents); Aspartic acid
*% Of recommended daily intake.
Action:
Dietary supplement APTEO Asparoc is a tablet containing potassium, magnesium and thiamine, or substances that support the cardiovascular system. The right level of magnesium and potassium affects the work of the muscles, along with the thiamine for myocardial function and nervous system. Potassium helps control blood pressure and keep it normal. Magnesium additionally influences the behavior of water-electrolyte homeostasis. The formulation may be used prophylactically as well as adjunctive in postmenopatic therapy.
Application:
APTEO Asparoc dietary supplement recommended for maintaining normal heart function, especially those with hyperactivity, risk of myocardial infarction or adjunctive therapy in postmenopausal.
Additional Information:
Store at room temperature, in a dry place, out of reach of children. The product can not be treated as a substitute for a balanced diet.
Contraindications:
Do not use in case of hypersensitivity to any of the substances contained in the preparation.
How to use:
Take 2 tablets 3 times a day. Do not exceed the recommended daily dose.