---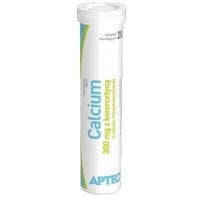 Sale
APTEO CALCIUM quercetin is a preparation which strengthens bones and teeth and helps to seal the walls of blood vessels. It relieves the symptoms of allergic and regulates LDL.
Ingredients:
1 effervescent tablet contains: acidity regulators: citric acid, sodium carbonate; 300 mg of calcium carbonate (calcium); bulking agent: sorbitol; corn starch; aromas; 30 mg quercetin; anti-caking agent: polyvinylpyrrolidone; sweeteners: acesulfame K, aspartame.
Action:
APTEO CALCIUM quercetin is in the form of effervescent tablets for solution for drinking. It contains quercetin, which is anti-inflammatory.It prevents diseases of cardiovascular system and lowers LDL levels, while securing vessels against the formation of atherosclerotic plaque. Calcium helps the proper functioning of bone tissue. It plays an important role in the proper operation of the muscle tissue and blood clotting. Is responsible for reducing the permeability of the capillary and the cell membrane, which clearly limits allergic reactions. APTEO CALCIUM quercetin is a complex dietary supplement.
Contraindications:
- Hypersensitivity to the active components of the preparation
Indications:
It is recommended to use the product in addition to the level of calcium in the body. Take in the prevention of rickets and osteomalacia, and the allergic symptoms.
How to use:
Apply orally. It is recommended to use the product at a dose of 1 tablet. x 1-2 / 24. Take dissolved in a glass of cool water.
---