---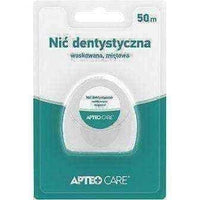 Sale
Dental floss waxed. APTEO CARE Dental mint waxed mint is a product that thoroughly removes food debris from hard to reach interdental toothbrushes.

In this way, it protects

Against gum disease.
Action:
APTEO CARE The mint waxed dental melt is a unique medical device that perfectly slides between the teeth. This contributes to the thorough cleaning of hard-to-reach areas. Eliminates food debris that can not be removed while brushing your teeth. This is extremely important because the persistent food promotes the formation of acids that negatively affect the condition of the teeth and cause inflammation. APTEO CARE Dental mint wax mousse does not irritate the gums. Leaves a pleasant fresh feeling in the mouth.
Indications:
Dental floss should be used to complement the care and hygiene of the oral cavity. Recommended for cleaning interdental spaces.
How to use:
It is recommended to tear about 45 cm of thread and roll it loosely around the middle fingers, so that they are about 2 cm between them. Then tighten the thread (using thumb and index fingers), then gently insert it between the teeth, taking care of the gums. Further interdental spaces should be cleaned with a fresh piece of thread.