---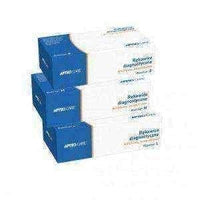 Sale
Apteo Care disposable, powder-coated diagnostic gloves suitable for medical and laboratory purposes, also suitable for home use and kitchen use.

They will protect the skin of the hands from irritation and drying.
Package contents:
100 pieces of latex glove powdered with corn meal, size M.
Action:
Latex Apteo Care diagnostic gloves help to preserve basic precautions during potential contact with pathogens. Their use also allows to maintain the required hygiene and protection of the material to be tested against contamination. Gloves protect the skin of the hands against irritating substances, including those found in household chemicals. Disposable gloves are powdered with corn meal, which additionally protects hands against irritation which can cause latex.
Application:
Apteo Care diagnostic gloves are designed for laboratory and medical examinations, as well as for protection against irritants.
Additional Information:
Do not use in the case of latex allergy. Discontinue use if skin irritation occurs.
---