---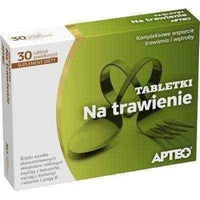 Sale
APTEO tablets for digestion is a natural dietary supplement composition. Artichoke and turmeric improve digestion and support the liver, stomach and bile ducts.
Composition:
1 tablet contains 160 mg of an artichoke extract (including cynarin 8 mg), 150 mg of extract of ostryżu long, 0.35 mg vitamin B2 0.35 mg vitamin B6, 0,625 mg vitamin B12.
Action:
APTEO digestion tablets is a food supplement characterized by a unique, complex composition. It contains an extract of artichoke (which constitutes the source cynarin charity) and an extract from long ostryżu which promote digestive processes. Clearly they reduce the feeling of fullness after eating and severity. Support the liver and biliary tract, while contributing to the regeneration of hepatocytes. Artichoke extract also has a very good effect on the functioning of the stomach and the correct flow of digestive juices. The product also contains vitamin B2, B6 and B12, which have a positive impact on the functioning of the body. APTEO tablets digestion in the form of coated tablets for oral use.
Contraindications:
- Hypersensitivity to the preparation Components
Indications:
It is recommended that the formulation in order to assist the action of the digestive system, especially the liver.
Usage:
For oral use. It is recommended to take the preparation at a dose of 1 tablet. x 1-2 / 24, at least 0.5 h before eating.
---