---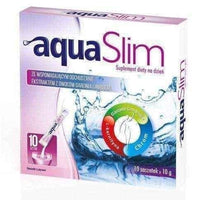 Sale
AQUA SLIM is a product that enhances physical performance and improves metabolism.

It regulates blood sugar and reduces the appetite. It supports the process of reducing the accumulated fat.
Composition:
10 g contains: L-carnitine tartrate 1500 mg, Garcinia cambogia 750 mg hydroxycitric acid in the 375 mg, Chromium 75 mcg.
Action:
The product is characterized by a complex composition. It contains L-carnitine, which participates in the conversion of stored fat into energy. Improves physical performance, supports the metabolism and stimulates the burning of lipids. Garcinia cambogia is a rich source of hydroxycitric acid HCA, which normalizes blood glucose levels. It brings a feeling of satiety and reduces appetite.Synthesizing lipids reduces the sugars and proteins, which in turn prevents the formation of fatty tissue. Chromium stimulates metabolism and supports the proper metabolism of carbohydrates. It regulates blood sugar levels and normalize the body's energy economy. The product supports the process of weight loss.
Contraindications:
- allergic to ingredients
- Pregnancy
- Breast-feeding
Indications:
Dietary supplement is intended to be used to reduce body weight.
Usage:
For oral use. The contents of one sachet should be dissolved in a glass of water and mix thoroughly, eat immediately after preparation.