---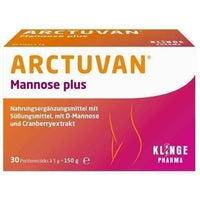 Sale
Arctuvan ® Mannose plus, D-Mannose, Cranberry Extract

Ingredients: 2 g D-Mannose, 300mg Cranberry Extract

• Combination of D-Mannose and Cranberry Extract
• Practical stick form, fruity taste
• Made in Germany. High quality
• Arctuvan ® Mannose plus - twice natural. Practical & fruity. High quality.

ARCTUVAN D-Mannose and Cranberry Extract Instructions for use:
Dissolve the contents of a stick in a glass of water and drink it Dosage:
Dissolve 2-3 times a day in a glass of water

Storage temperature:
no special storage conditions

Warnings:
If the stated expiry date has passed, the product may no longer be used
ARCTUVAN D-Mannose and Cranberry Extract Food supplements. The recommended daily intake must not be exceeded.

ARCTUVAN D-Mannose and Cranberry Extract Dietary supplements are no substitute for a balanced, varied diet and a healthy lifestyle.

Keep away from children!
How long do you take d mannose for uti?
For preventing frequent UTIs: 2 grams once daily, or 1 gram twice daily. For treating an active UTI: 1.5 grams twice daily for

3 days, and then once daily

for 10 days; or 1 gram three times daily

for 14 days.
Symptoms:
Frequent urination
Can take d mannose when pregnant?
D-mannose works by preventing E. coli bacteria from sticking to the walls of the urinary system and has been clinically proven to be safe for use during pregnancy.
---