---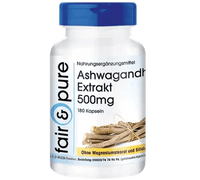 Sale
ASHWAGANDHA EXTRACT 500 mg capsules 180 pc
"Ashwagandha extract 500mg Withania somnifera with 5% withanolids Vegan"
High-dose ashwagandha capsules
Standardised to 5% withanolides
High quality food supplements - Garanteeed without magnesium stearate
100% vegan
Produced according to HACCP quality and hygiene standards
Note: As a manufacturer of food supplements, we are not allowed to give any information on the effect of vital substances due to legal requirements. Please inform yourself on e.g. technical pages on the internet or in specialised literature before ordering our products online.
Ashwagandha extract
 of which withanolides
L-Leucine
1000mg
50mg
80mg
Recommended Intake
Adults 2 capsules daily in divided doses with meals and plenty of water.
We recommend consulting a doctor before use during pregnancy and breastfeeding.
Ingredients
Ingredients:
Ashwagandha Extract (Withania Somnifera, contains at least 5% Withanolides), Glazing Agent Hydroxypropylmethylcellulose (Capsule Shell), Bulking Agent Microcrystalline Cellulose, L-Leucine, Cottonseed Oil
---