---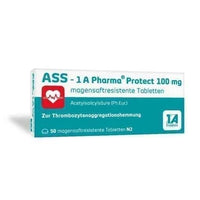 Sale
ASS - 1 A Pharma
®
Protect 100 mg gastro-resistant tablets
Active substance: acetylsalicylic acid (ASS).
Areas of application:
ASS - 1 A Pharma Protect can only be used for prophylaxis (preventive). The treatment is intended to reduce the risk of blood clots forming, thereby further preventing: heart attack, stroke, cardiovascular problems in patients with stable or unstable angina (a type of chest pain). In addition, ASS - 1 A Pharma Protect is used to prevent blood clots from forming after certain cardiac surgery to widen or reopen blood vessels. This medicine is not recommended for emergency treatment.
ASS-1A Pharma Protect For information on risks and side effects, read the package insert and ask your doctor or pharmacist!
Mat.-No .: 2/51010345 Status: December 2019
1 A Pharma GmbH, Keltenring 1 + 3, 82041 Oberhaching
---