---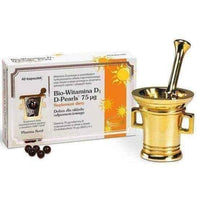 Sale
Soft gel capsules with cholecalciferol Bio-Vitamin D3 D-Pearls 75mcg is a dietary supplement recommended for use in supplementing the daily diet with vitamin D. The use of cholecalciferol is characterized by high bioavailability.
Ingredients:
Bulking agent: olive oil, capsule components: gelatin; humectant: glycerol, purified water, vitamin D3 (cholecalciferol), color: ammonia caramel.
The content of ingredients in one capsule (recommended daily dose): vitamin D3 (cholecalciferol) - 75mcg (3000IU, 1500% of the reference intake).
Action:
Each capsule contains 75mcg of vitamin D3 (3000IU), dissolved in cold-pressed olive oil. Thanks to such a treatment, the absorption of vitamin D in the digestive system is better. The big advantage of the preparation is that the capsules are small and easy to swallow, but if necessary, it can be cracked and chewed. Vitamin D supports the maintenance of healthy bones and teeth (among others because it supports the proper absorption of calcium and phosphorus), also supports the proper functioning of the immune system and muscle work. Also participates in the process of cell division.
Application:
Dietary supplement Bio-Vitamin D3 D-Pearls 75mcg intended for adults to be used as a supplement to the daily diet with vitamin D.
Additional information: The
dietary supplement can not be used as a substitute for a varied diet and a healthy lifestyle. Keep the product out of reach of children at room temperature. Protect against light and moisture. The preparation was produced according to the recommendations of Danish pharmaceutical control. The possibility of using in pregnant women, nursing mothers and people taking medications is recommended to consult a doctor. The gelatin shell is Halal and Kosher certified.
Contraindications:
Do not use in case of hypersensitivity to any component of the preparation.
Directions for use:
Recommended daily dose: one capsule. It is recommended to take during the meal. Do not exceed recommended servings for consumption during the day.
Net weight: 7,4g (40 x 185mg).
---