---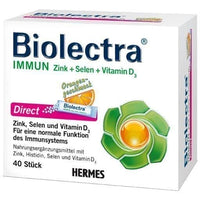 Sale
BIOLECTRA Immun Direct Pellets 40 pcs histidine
Biolectra Immun Direct histidine
food supplement with zinc, histidine, selenium and vitamin D3. Micro-pellets with sweeteners and orange flavor


Biolectra Immun Direct histidine Ingredients:

sweetener (sorbitol), L-histidine, magnesium citrate, sweetener (mannitol), acidifier (citric acid), acidity regulator (calcium carbonate), flavor, zinc oxide, vitamin D3, vegetable oils from palm kernel and coconut oil Thickeners (sodium carboxymethyl cellulose), anti-caking agents (magnesium salts of fatty acids), sodium selenate, sweeteners (aspartame).


Biolectra Immun Direct histidine Amount of certain ingredients or classes of ingredients:

per stick:
Zinc 10mg 100%
Histidine 50mg **
Selenium 50μg 91%
Vitamin D 3 20 μg (800I.E.) 400%
% Of the design according to Food Information Regulation
** no recommendation

net quantity of the food:
24 g (20) 48 g (40)
instructions for storage and use
Recommended dosage:
consume 1x daily the contents of a stick. Put the micro-pellets directly on the tongue, let them dissolve slowly and swallow.

Important information:


Biolectra Immun Direct histidine Dietary supplements are no substitute for a balanced and varied diet and a healthy lifestyle.

The recommended daily dose should not be exceeded.
Please keep out of the reach of small children and store in a dry place at room temperature.
Contains phenylalanine.
Can have a laxative effect if consumed to excess.


Biolectra Immun Direct histidine Instructions for use

See instructions for storage and use


HERMES ARZNEIMITTEL GMBH
Georg – Kalb – Str. 5–8
82049 Großhesselohe ⁄ Munich
---