---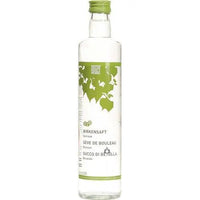 Sale
BIRCH JUICE native organic 500 ml, Birch sap
BIRCH JUICE, Birch sap native organic
The NaturKraftWerke birch sap with the treey mineral taste comes directly from the wild east of Finland  and is obtained there in a friendly family business on a small industrial basis. For over 10 years, our partners Susanna and Arto Maaranen have been harvesting and researching
the sap from their organically managed birch forest.
They have developed a unique process that has won company awards, making them the only ones in the world to be  able to preserve the traditional birch product for general consumption without any additives and without heating. This is how the full-bodied, light-bodied juice comes to you - untreated and one hundred percent wonderfully refreshing.
Birch sap is obtained from the silver birch (Betula pendula), also called silver birch. With its slender growth and soft green leaves, this deciduous tree is a symbol of spirited joie de vivre and renewing activity.
"Birch sap has a fresh, light, simply spring-like taste."
Birch sap natural power plants:
100% native, direct juice from the trunk, unpasteurized, without preservatives, from controlled organic cultivation, from remote eastern Finland, in an attractive glass bottle