---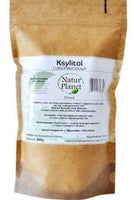 Sale
An alternative to traditional sugar! Birch xylitol is just as sweet with a low glycemic index. An additional advantage of xylitol is that it is less caloric than sugar. The product is recommended for diabetics and people on a diet.
Ingredients Xylitol Birch:
Finnish xylitol obtained from birch. Information on allergens: sesame, almonds, products with sulfur dioxide SO2, peanuts, various nuts are also packed in the production plant.
Nutritional value per 100g:energy value - 1000kJ / 240kcal; fats - 0g, including: saturated fatty acids - 0g; carbohydrates - 100g, including: sugars - 0.2g; protein - 0g, fiber - 0g, salt - 0g.
Action of Xylitol Birch:
Birch xylitol is a sugar of natural origin that is obtained from birch bark. A characteristic feature of xylitol is its low glycemic index (GI: 8) and half the caloric content of traditional sugar. Xylitol is as sweet as regular sugar, so it is a healthier substitute. In addition, xylitol has anti-caries properties, contributes to the restoration of the appropriate saliva pH, thus reducing the exposure time of the enamel to the adverse effects of acids. It also inhibits the growth of bacteria that are responsible for the development of caries. Xylitol can also help with oral yeast infections.
Application:
Birch xylitol is recommended as an alternative to sugar. Recommended for people on a diet, people who care about their figure and for diabetics. Suitable for adults and children over 3 years of age.

Additional information:
Store the product out of reach of children, at room temperature. It is recommended to protect against moisture and light. Country of origin: Finland. Excessive consumption of xylitol may have a laxative effect.
Contraindications:
Do not use in case of hypersensitivity to any component of the product. Do not give to children under 3 years of age.
How to use Birch Xylitol:
Use according to your taste preferences, use like regular sugar. Add, among others for drinks, desserts, cocktails.
Net weight: 500g.
---