---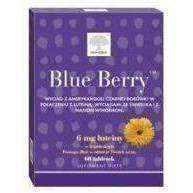 Sale
BLUE BERRY tablets. Nowadays, many people suffer from various ailments related to the organ of sight.

Blue Berry is a product containing an extract of blueberries and lutein.

With these ingredients properly composed cares about the health of your eyes.
Composition:
In one tablet: microcrystalline cellulose, plant extracts: from the American variety bilberry 200 mg, firefly 100 mg, dicalcium phosphate (stabilizer), marigold extract 40 mg starch, potato, grape seed extract 20 mg magnesium stearate ( s. anticaking agent), silicon dioxide (p. anticaking).

Action:
The beneficial effects of the formulation is based on the activity of the herbal ingredients: bioavailable extract of bilberry, lutein contained in the extract of marigold and supporting extracts of grape seeds and skylight.

Indications:
Blue Berry is a food supplement for adults to help take care of the eyes, especially in the case of fatigue and weakness of sight. It can be used by individuals on a vegetarian diet or vegan.

Contraindications:
The preparation should not be taken by children, pregnant and lactating women. It should not take people who are hypersensitive to any component of the supplement.

Dosage:
daily 2 tablets with meals.
The formulation is present in packages of 60 or 120 tablets.