---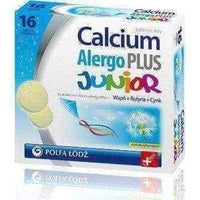 Sale
CALCIUM Alergo PLUS JUNIOR is a formulation that used oral supplements calcium, zinc and routine in the body, eliminating allergy symptoms including itching, runny nose, rash.
Ingredients:
Calcium (calcium lactate), acidity regulator citric acid, acidity regulator: sodium bicarbonate, acidity regulator sodium carbonate concentrate flavoring aromatic-coloring powder with a lemon flavor (maltodextrin carrier: acacia, natural oils of lemon and lime flavors , aromas natural coloring beta-carotene, acidity regulator citric acid, antioxidant, ascorbic acid, anti-oxidant: alpha-tocopherol, preservative sodium benzoate), rutoside, dried concentrate lemon (concentrate, and puree lemon, maltodextrin) sweetener: acesulfame K, zinc (zinc gluconate).
1 tablet contains:
Calcium - 150 mg (18.75% RDA)
Zinc - 1.5 mg (15% RDA)
RDA - recommended daily intake.
The product contains 25-50 mg rutoside * the recommended daily servings
* no recommended daily allowance
Action:
The product belongs to a wide group of complex measures to complement the body's levels of calcium, zinc and routine. Calcium is an important component needed to properly proceeded muscle function, growth and regeneration of bone tissue and blood clotting. Reduces the permeability of capillaries and cell membranes reducing allergic to change. It helps keep-compliant neurotransmission. Zinc stimulates the body's defense mechanisms resulting in increased production of antibodies.
Indications:
It is recommended to use the product in the case of seasonal allergic cases with symptoms such as rash, itching, runny nose. Used in children over 4 years of age.
Use:
Take orally. Used in children over 4 years of age and adolescents at a dose of 1-2 tabl./24h. Take dissolved in ½ cup of water.
---