---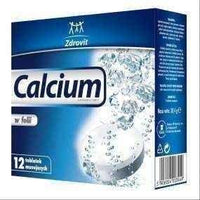 Sale
Calcium is a dietary supplement in the form of effervescent tablets. Recommended for use to supplement the deficiency of this element in the body. Calcium plays an important role in the proper functioning of the human body.
Ingredients:
Acidity regulators: citric acid, sodium bicarbonate; calcium carbonate; bulking agent: sorbitol, polyvinylpyrrolidone; sweeteners: sodium cyclamate and sodium saccharin; aroma; dye: riboflavin 5'-phosphate.
The content of active ingredients in the recommended daily dose (3 tablets): calcium - 900 mg (112% of recommended daily intake).
Action:
A simple way to supplement your daily diet with calcium. Effervescent tablets Calcium is a dietary supplement for everyone, including pregnant women, children and adolescents. Calcium helps to maintain healthy teeth and strong bones. It is needed for the proper functioning of muscles. It also supports the normal processes of energy metabolism.
Application:
Dietary supplement Calcium effervescent tablets is recommended as a supplement to the daily diet with calcium. Designed especially for pregnant women, nursing mothers and children and adolescents in the period of intensive growth.
Additional information:
consumed in excessive amounts can cause a laxative effect. Food supplements should not be treated as a substitute for a varied diet and a healthy lifestyle. Keep out of reach of children, at room temperature. Protect from moisture.
Contraindications
not be used in case of hypersensitivity to any component of the supplement.
Usage:
The recommended daily dose of 3 tablets. One tablet dissolved in a glass of water. Do not exceed recommended servings for consumption during the day.
Net weight: 38,4g.
---