---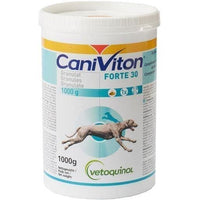 Sale
CANIVITON
®
FORTE 30
Supplementary feed (granules) for dogs
To support the joint function with chondroitin sulphate
CANIVITON Forte 30 Composition
Oat flakes, malt, carrots (dried), herbal mixture, gelatine from pork, beekeeping by-products, chondroitin sulphate (1.8%), soybean oil, sodium chloride, calcium carbonate.
CANIVITON Forte 30 Analytical constituents
crude protein 14.4%, moisture 7.9%, crude fat 4.1%, crude ash 3.9%, crude fiber 1.6%.
Additives / kg: Vitamins, provitamins and similar substances that are chemically described: Vitamin C (as calcium L-ascorbate) (E302) 5000 mg, carnitine (as L-carnitine) 5000 mg; Amino acids: DL-methionine 5000 mg; Trace elements: Manganese (as manganese (II) sulfate, monohydrate) (E 5) 120 mg, iodine as potassium iodide (E2) 3 mg, selenium as sodium selenite (E8) 0.5 mg. Binders, flow aids and coagulants: Colloidal silicon dioxide (E551b) 4 g; Flavorings: Devil's Claw (Harpagophytum procumbens) and flavoring mixture.
CANIVITON Forte 30 Properties
Caniviton
®
Forte 30 is a supplementary feed for dogs to support joint function with chondroitin sulfate. Chondroitin sulfate helps to support the elasticity of the joint cartilage and its natural function. The administration of Caniviton
®
Forte 30 is particularly recommended when tendons, ligaments and joints are stressed. It is suitable for dogs of all breeds.
Feeding
recommendation for dogs: 1 measuring spoon / 30 kg body weight / day 1 measuring spoon (inside) corresponds to 16 g of the granules = 300 mg chondroitin sulfate.
In the case of dry feeding, moisten the feed slightly before adding Caniviton
®
Forte 30. Water should always be available. In taste-sensitive dogs, increase the dose gradually up to the desired amount.
Information as of December 2020
---