---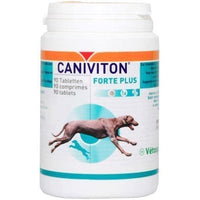 Sale
CANIVITON
®
FORTE PLUS, CANIVITON Forte Plus Dog, Cat
Supplementary feed (tablets) for dogs and cats
To support the natural joint function
CANIVITON Forte Plus Dog, Cat Composition:
Glucosamine, chondroitin sulfate, polyethylene glycol, magnesium salts org. Acids C 16-18.
CANIVITON Forte Plus Dog, Cat Analytical components:
crude fiber 22.2%, crude protein 16.2%, crude ash 7.4%, moisture 4.6%, crude fat 0.82%.
CANIVITON Forte Plus Dog, Cat Additives / kg: trace elements: manganese (manganese sulfate, monohydrate) (E5) 4522mg, binders, flow aids and coagulants: colloidal silicon dioxide (E 551b) 4.5g; Emulsifiers, stabilizers, thickeners and gelling agents: microcrystalline cellulose (E460) 338g, flavorings: devil's claw (Harpagophytum procumbens) and flavoring mixture.
1 tablet (2.2 g) contains: glucosamine 500mg, chondroitin sulfate 400mg, Harpagophytum procumbens 150mg.
CANIVITON Forte Plus Dog, Cat Properties:
Caniviton
®
Forte Plus supports the natural joint function. In addition to the important natural cartilage component chondroitin sulfate, which is responsible for the elasticity of the cartilage with its ability to bind large amounts of water, it also contains glucosamine, which is essential as a basic component of various glycosaminoglycans for the formation of cartilage, tendons and ligaments. Since Caniviton
®
Forte Plus does not contain any grain, it is also suitable for many people who are allergic to feed.
CANIVITON Forte Plus Dog, Cat Feeding recommendation:
Give once a day directly or with the feed according to the following feeding recommendation. Water should always be available. Due to the legally stipulated maximum amounts of trace elements in feed, this supplementary feed may only be fed up to a maximum amount of 5 tablets / dog (30 kg body weight) / day or 1 tablet / cat (4 kg body weight) / day. Store can well closed, protected from light and below 25 ° C.
Information as of December 2020