---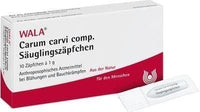 Sale
Carum carvi comp. Infant
CARUM CARVI Suppositories Infant:
areas of application according to the anthroposophical knowledge of humans and nature.
These include: Harmonization of the sensory organization in the metabolic system in the case of digestive weakness with flatulence and a tendency to stomach cramps as well as the associated restlessness and sleep disorders.
CARUM CARVI Suppositories Infant For information on risks and side effects, read the package insert and ask your doctor or pharmacist.
WALA Heilmittel GmbH, 73085 Bad Boll / Eckwälden, GERMANY.