---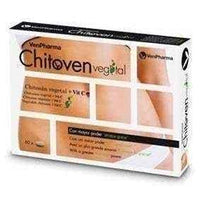 Sale
Chitoven Vegetal chitosan composition contains vegetable KiOnutrime-Cs enriched with vitamin C - an ingredient that reduces fat absorption in the gastrointestinal tract, helping to lose excess weight and to reduce cholesterol. Supplement for adults.
Composition:
Active substance: chitosan plant KiOnutrime-Cs 1800mg, bulking agent: microcrystalline cellulose E460, the active substance: L-ascorbic acid (vitamin C), anti-caking agent: magnesium stearate E572.
Action: Chitoven Vegetal VenPharma is a dietary supplement created on the basis of chitosan plant KiOnutrime-Cs and vitamin C - which enhances the effects of the addition of chitosan. Supplementation Chitoven Vegetal, influence effectively on the level of fat absorption in the gastrointestinal tract and thereby promotes the loss of excess weight, maintain a healthy weight and affects the balance of the economy cholesterol the body.
Application: Chitoven Vegetal VenPharma is indicated for adults who want to maintain optimum weight body.
Directions: Take 1-2 tablets half an hour before the main meal, with water.