---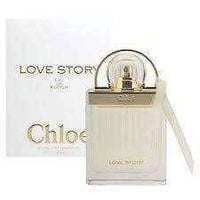 Sale
Chloé Love Story Eau de Parfum 50ml Spray.
Freedom, lightness and femininity: these are the principles on which Chloe was founded in Paris more than 60 years ago. Today Chloé's vision of romantic, effortless chic lives in ready-to-wear, accessories, and fragrances.

Chloé unveils an essence of seduction, a declaration of femininity, a proclamation of freedom. Love Story Eau de Parfum by Chloé is the expression of a free woman: the Chloé woman.

A floral love story, the fragrance opens with the sensuality of orange blossom, luminous, and intoxicating like the flush of new love. The stirring femininity of jasmine stephanotis, the flower of happiness, gives the fragrance its heart. The scent is grounded by the sensual strength, and freshness of cedarwood, creating an unforgettable essence of seduction.

Love Story Eau de Parfum by Chloé comes in a bottle with a padlock design to symbolize love and romance. A delicate ribbon knotted casually on the side complements the femininity of the pleated glass. Its elegant matte white case, embossed with gold letters, is circled with a delicate ribbon that holds the precious bottle.
Perfumes and aftershaves sorry UK only. We will ship only in UK territory. Allowed for UK addresses only* but are prohibited in Business Response, Freepost™ and all variants of Packetpost™ and Packetsort™.