---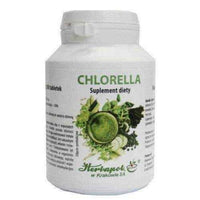 Sale
Chlorella tablets. A solid portion of natural nutrients can be found in chlorella.

This unique freshwater alga can be found in the Chlorella diet supplement.

The preparation is recommended for people who want to enrich the diet with numerous active substances.
Ingredients:
Chlorella (Chlorella pyrenoidosa) - 100%.
The content of chlorella in the recommended daily dose: 3g.
Action:
Freshwater algae full of valuable active substances and known for its health-promoting properties. Dietary supplement Chlorella brand Herbapol Krakow used as a supplement to the daily diet supports the proper functioning of the body. Chlorella has a unique property, absorbs toxins and heavy metals, which cleanses the body. It helps to supplement your diet with various minerals and vitamins. In addition, it supports the proper functioning of the heart and veins, as well as maintaining the proper level of cholesterol and blood sugar. In addition, it supports the proper functioning of the liver, gall bladder and kidneys, as well as the digestive system.
Application:
Dietary supplement Chlorella intended for use as a supplement to the daily diet in active substances contained in chlorella.
Additional information: The
dietary supplement can not be used as a substitute for a varied diet and a healthy lifestyle. Keep the product out of reach of children at room temperature. Keep away from moisture. Country of origin: China.
Contraindications:
Do not use in case of hypersensitivity to any component of the preparation.
Directions for use:
Recommended daily dose: 12 tablets. Take four tablets a day three times a day. Do not exceed recommended servings for consumption during the day.
Net weight: 125g (500 x 250mg).