---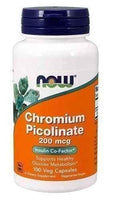 Sale
Chromium Picolinate is a component that, among others supports the maintenance of an adequate level of glucose in the blood. Dietary supplement Now Foods Chrom 200mcg (picolinate) is recommended for use as a supplement to the daily diet with this substance. Preparation for adults.
Chromium 200mcg (picolinate) ingredients:
Chromium (chromium picolinate); filling substance - rice flour; capsule material - cellulose. Allergen information: no allergens or ingredients were used in the production process: yeast, wheat, gluten, soy, corn, milk, eggs, fish, shellfish and tree nuts. Manufactured in a GMP facility that also processes other ingredients containing these allergens.
The content of ingredients in one capsule (recommended daily dose): chromium (chromium picolinate) - 200mcg (500% of the reference intake value).
Action Chromium 200mcg (picolinate):
Chromium plays an important role in the body - it helps to maintain the proper metabolism of glucose and carbohydrates. Chromium 200mcg (picolinate) dietary supplement is especially recommended for people who want to take care of an adequate level of glucose in the blood. In addition, chromium also supports the metabolism of macronutrients - proteins, fats. Preparation in the form of vegetarian capsules.
Application:
Dietary supplement Chrom 200mcg (picolinate) intended for use to supplement the daily diet with chromium. Intended for adults, suitable for vegans and vegetarians.

Additional information:
A dietary supplement cannot be used as a substitute, i.e. a replacement for a varied diet. Maintaining a balanced diet and a healthy lifestyle is very important. Store the product out of reach of children at room temperature. It is recommended to protect against the effects of moisture and light.
Contraindications:
Do not use in case of hypersensitivity to any component of the dietary supplement.
How to use Chrome 200mcg capsules (picolinate):
Recommended daily dose: one capsule. Taken with a meal. In the case of diabetics, it is recommended to use under medical supervision. Do not exceed recommended servings for consumption during the day.
Net weight: 90g.
---