---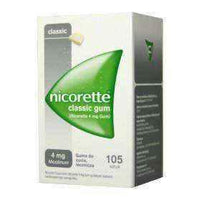 Sale
NICORETTE GUM (NICOTINE). Do you want to quit smoking once and for all?

Support your willpower special nicotine gums - 4mg Nicorette Classic. Chewing gum helps to effectively reduce the craving. The drug comes from parallel imports.
Composition:
One gum contains: active ingredient: nicotine - 4 mg in the form of a complex resin of nicotine of 20% and auxiliary substances: anhydrous sodium carbonate, the gum base (containing butylated hydroxytoluene (E 321)), sorbitol powder, sorbitol (70% solution ) Haverstroo flavor, aroma, flavoring, 85% glycerol, quinoline yellow (E 104).
Action:
Nicorette Classic is a special gum containing nicotine, up to 4 mg in one piece. Chewing it relieves the feeling of craving and withdrawal symptoms. Smoking cigarettes are released harmful tar and carbon dioxide, chewing gum Nicorette Classic eliminate these components. They contain pure nicotine gum.
Application:
The medicinal product Nicorette 4 mg Classic indicated for use in the treatment of nicotine addiction.
Additional information:
gums contain sorbitol, caution should be exercised in patients with known intolerance to some sugars. Keep out of reach of children, at room temperature. Not recommended for use in patients under 18 years of age, pregnant women, breastfeeding mothers without consulting a doctor. Included in the formulation butylated hydroxytoluene (E 321) can cause irritation of mucous membranes.
Contraindications
not be used in case of hypersensitivity to nicotine or to any component of gum.
Undesirable effects:
When using the gum may appear side effects similar to those that are associated with the intake of nicotine during smoking cigarettes. In the first period of application of gum may appear throat irritation, increased production of saliva. Other side effects: Very common: headache, discomfort, hiccups, nausea, sore mouth and throat, pain in the muscles of the jaw; Common: dizziness, vomiting; uncommon: palpitations (palpitations), erythema, urticaria; rare, very rare: transient atrial fibrillation, allergic reactions, including angioedema.
Dosage:
Adults, the elderly: the initial dose must be determined individually depending on the degree of dependence on nicotine. Gum 4mg nicotine content are recommended for people with a high degree of dependence. Generally, the initial dose is 8-12 gums per day, with a maximum daily dose is 24 rubber. Treatment using such dosage should be at least three months. After this time, You can see these gradually reduce the dose. Rubber should be used in the intervals between cigarettes fired when felt a strong desire to inflammation. Nicotine gum should be chewed properly. Chewing causes the release of nicotine, it is recommended to chew slowly, taking regular breaks to nicotine could be absorbed. The gum should be chewed until the taste sensation, then take a break, holding the gum eg. Between the cheek and gum. When evaporate taste, you can start chewing again. One stick gum in your mouth for about 30 minutes, a sign that you need to throw it out the total loss of taste.
---