---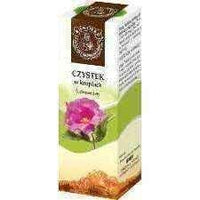 Sale
Cleansing drops (natural parasite cleanse, immune system) a great alternative for people who do not like drinking herbal infusions.

Health benefits, strengthening and cleansing antioxidants are widely known and appreciated for centuries.
Ingredients:
extract of the herb liquor purge (Cistus incanus Linne).
Action:
The most common form of cleansing is dried for the preparation of infusions. However, not everyone responds the form of herbal tea was created for such people drops containing an extract of the herb cleansing. It is a plant whose beneficial effect on the human body is invaluable. It contains a strong dose of antioxidants, which neutralize harmful free radical activity, which protects cells and tissues from the so-called. oxidative stress. Purges further exhibit antibacterial and anti-virus. Regular use of the purge strengthens the immune system.
Applications:
Dietary supplement recommended cleansing drops to be used to support the body's defense system and its protection against oxidative stress.
Additional information:
Before use, shake the bottle. Food supplements should not be treated as a substitute for a varied diet.
Contraindications:
The product contains alcohol, which is worth paying attention prior to use in people suffering from alcoholism or acute pancreatitis. Should not be used in people who are allergic to the ingredients.
Usage:
advisable to take 1 teaspoon three times a day. Recommended daily consumption during the day it 7,5ml, should not be exceeded. If desired, the formulation may be diluted with a small amount of water.