---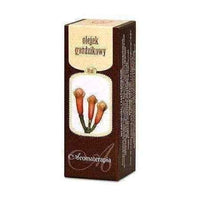 Sale
CLOVE OIL (rheumatism, pain, infection and indigestion) is a preparation that has disinfectant and alleviate properties.

Stimulates and brightens the mind.

It also acts as an insect repellent.
Composition: The
package contains 10 ml of clove oil
Action:
The preparation is characterized by a broad spectrum of action. First of all, it exhibits disinfecting and attenuating properties. It positively affects the well-being of people with katar. In addition, it stimulates and brightens the state of mind and deters insects, preventing bites.
Indications:
Use in case of rheumatism, pain, infection and indigestion.
Dosage:
Use externally. Add 10-15 drops to the bath for 3/4 of the bath. As part of the massage 3-5 drops of essential oil mix with a tablespoon of olive oil.