---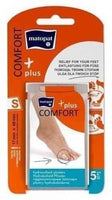 Sale
New shoes have left their mark on your feet? Use special patches with a hydrocolloid layer! Comfort Plus blister patches protect and support the healing of blisters and wounds. Patch dimensions: 17mm x 48mm.
Action Comfort Plus Blisters:
Hydrocolloid patches - Comfort Plus blisters. It is a product recommended for use on blisters on the feet and hands, as well as for minor abrasions and cuts. The hydrocolloid layer creates a moist environment, i.e. conditions suitable to accelerate the healing process, while minimizing the risk of scar formation. In addition, the patch protects against pressure, pain and external factors. The product is waterproof, does not peel off when in contact with moisture. The patch stays on your skin for up to 7 days.
Application:
Comfort Plus Blister patches designed for use on minor cuts, abrasions and blisters.
Additional information:
The product should be stored out of reach of children at room temperature. It is recommended to protect against moisture and light. Disposable product. Sterile product.
Contraindications:
Do not use in case of hypersensitivity to any component of the product.
How to use Comfort Plus Blisters:
Use as intended. Apply the patch after cleaning and drying the skin. It is recommended to replace the patch if necessary, with a maximum of one patch remaining on the skin for 7 days. When removing the patch, do not pull it off.