---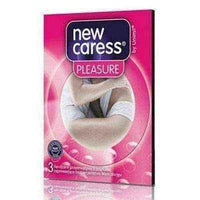 Sale
Condoms. Discover a new dimension of pleasure with the New Caress Pleasure Condoms!

The unique sensations will be provided by the tabs and strips placed on the surface of the condom.

New Caress Pleasure is a pleasure you have never seen before!
Composition:
Natural rubber latex.
Action and application:
Do you want to spice up your sex life and provide you with effective protection against pregnancy and sexually transmitted diseases? The New Caress Pleasure latex condoms have a unique, stimulating surface. Insets and stripes guarantee deep pleasure for both partners. Diameter of the condom: 52mm. The product meets the highest standards and standards regarding safety and reliability.
Additional information:
Keep the product out of reach of children at room temperature. Protect against direct sunlight. The product is tested electronically.
Contraindications:
Do not use in the case of hypersensitivity to latex.
Directions for use:
Use as intended. The exact description on the package.
---