---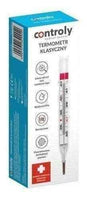 Sale
The Classic Mercury Controly Thermometer is recommended for measuring body temperature. This product is ideal for the whole family, designed to take measurements in the mouth, armpit and rectum. The thermometer is glass, waterproof.
Operation Controly Classic Thermometer:
Unlike traditional thermometers, this model does not contain mercury. It is replaced by a non-toxic, environmentally friendly mixture of liquid metals - an alloy of gallium, tin, indium and zinc. The Controly classic glass thermometer is perfect as a basic diagnostic tool in every home. It is designed to measure body temperature in the armpit, mouth and anus. The measuring range is 35.5-42 degrees Celsius. The measurement result can be easily read thanks to the magnifying glass case.
Application:
Medical device Controly Classic thermometer designed to measure temperature at home.

Additional information:
The product should be stored out of reach of children at room temperature. It is recommended to protect against moisture and light. Protect from sunlight and high temperatures. Do not subject to impacts or shocks. Do not use hot water to clean the thermometer. Do not bend, squeeze or bite. If the thermometer breaks and the measuring liquid spills out, wipe it off using a cloth moistened with soap and water. Do not use a damaged thermometer. The thermometer is not suitable for use as an ovulation thermometer.
Contraindications:
In children under 10 years of age, mouth temperature should not be measured.
How to use the Classic Controly Thermometer:
Caution is advised when using the thermometer. Each time before and after use, clean and disinfect the thermometer (with a soft cloth moistened with isopropyl alcohol solution or cold soapy water). Before the measurement, check if the liquid column is below 36 degrees. C. It should be remembered that gallium freezes at room temperature, which may cause difficulties in shaking the thermometer. It is recommended to perform this action always after reading the measurement result. The duration of the measurement is 8 minutes. To facilitate measurement, the thermometer can be put into a case that has a magnifying glass effect.
---