---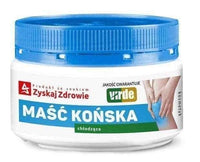 Sale
Traditional herbal recipe with a soothing effect on tired muscles, including after prolonged physical exertion and for bruises. Cooling horse ointment from Zyskaj Zdrowie brand contains a composition of herbal extracts and essential oils.
Composition: Cooling horse ointment:
Aqua, Alcohol Denat., Glycerin, PEG-40 Hydrogenated Castor Oil, Menthol, Carbomer, Camphor, Calendula Officinalis Flower Extract, Symphytum Officinale Root Extract, Aesculus Hippocastanum Extract, Amica Montana Extract, Lavandula Angustifolia Oil, Mentisha Mentisha Herbvens, Oil Herb Oil, Juniperus Oxycedrus Wood Tar, Rosmarinus Officinalis Oil, Cinnamonum Zeylancium Leaf Oil, Eucalyptus Globulus Leaf Oil, Citrus Limon Seed Oil, Abies Alba Needle Oil, Pinus Sylvestris Leaf Oil, Triethanolamine, Cl 42051, Phenoxyethanol, Ethylhexylglycerin.
Action Horse Cooling Ointment:
Cooling horse ointment with a gel consistency was created according to a traditional recipe based on herbal extracts and essential oils. The preparation brings immediate relief, pleasantly cooling the place of application. It relieves tension and fatigue in the body, is perfect for soothing muscle fatigue after prolonged physical exertion, as well as for injuries, bruises and contusions. In addition, it effectively reduces the symptoms of venous circulation failure, e.g. the feeling of heavy legs.
Application:
Cooling horse ointment intended for use in the event of symptoms of venous insufficiency of the lower extremities, pain and muscle fatigue, as well as in the case of bruises, contusions and injuries.

Additional information:
Store the product out of reach of children at room temperature. It is recommended to protect against the effects of moisture and light. The possibility of using the preparation in pregnant and lactating women should be discussed with your doctor. In the case of sensitive skin, the ointment may cause irritation.
Contraindications:
Do not use in case of hypersensitivity to any component of the preparation. Do not use on skin lesions and wounds.
How to use Cooling Horse Ointment:
For external use only. Apply an appropriate amount of gel (as much of the product as the skin can absorb) on the skin and allow it to be completely absorbed. Use several times a day (frequency of application depends on individual needs). Do not use on mucous membranes, around the eyes, nose and mouth. Do not apply the ointment on more than 30% of the skin area.
---