---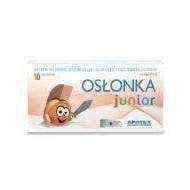 Sale
Lactobacillus rhamnosus. Natural casing Junior synbiotic especially recommended for children over 3 years of age in the course of antibiotic therapy. The preparation contains three live bacteria: Lactobacillus rhamnosus, Lactobacillus plantarum and Bifidobacterium lactis.
Ingredients:
NUTRIENT sachet in 1: lyophilisate of probiotic bacteria - 5.0 billion bacteria (5.0 x 109 CFU - a unit forming colonies of bacteria), Lactobacillus plantantarum - 1.67 billion Lactobacillus rhamnosus - 1.67 billion Bifidobacterium lactis - 1.67 billion prebiotic ingredient: fructooligosaccharides (FOS) - 41mg, vitamin C - 12 mg (15% of the recommended daily intake). Auxiliary components: fillers - dextrose. maltodextrin, anti-caking agent - silicon dioxide.
Operation:
Three live bacteria with a prebiotic component - fructo-oligosaccharides and vitamin C are about the efficacy of dietary foodstuff special purpose medical casing Junior. They help restore the normal bacterial flora in the gut. This product uses a patented technology Duolac, or by double encapsulation. It extends the life of probiotic bacteria during the entire production process, storage and in use.
Application:
Dietary food for special medical purposes Junior casing intended for dietary treatment in order to: complement the gut microflora during antibiotic therapy and thereafter; duration and alleviation of diarrhea of diverse etiology (eg., infectious diarrhea, caused by antibiotic treatment); support immunity, and restoring the balance of the intestinal microflora. For use in adults and children over 3 years of age.
Additional information:
The product stored at a temperature lower than the 25st. C, in a dry place away from children.
Contraindications
not be used in case of hypersensitivity to any component of the product.
Usage:
For use under medical supervision. Serve 1 sachet once a day. It is recommended to mix the contents of the sachet with a small amount of water, milk or yogurt. Better results will be achieved, if the preparation is taken a few days after antibiotic treatment.
Net weight: 10g.
---