---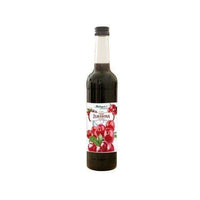 Sale
Cranberry Syrup with Vitamin C is a natural product that significantly enhances the flavor of many desserts and beverages. It also provides the body with vitamin C corresponding to, among others, for strengthening immunity.
Composition:
100 ml syrup contains: Energy value 1357 kJ / 323 kcal, fat <0.5 g saturated fatty acids <0,5 g, Carbohydrates 77g of which sugars 70 g, protein <0.5 g, Salt 0g, Vitamin C 52 mg (65% RDA *)
Composition total: sugar, water, concentrated juice (concentrate) cranberry 1.2% (corresponding to 8.3% cranberry juice from concentrate cranberry juice), chokeberry juice concentrate, concentrated juice of blueberries, acidity regulator - citric acid, vitamin C, natural flavor.
Action:
Syrup Cranberry with Vitamin C is a product that is not only unique taste characteristics, but also provides the body with beneficial ingredients. Cranberry concentrate contains substances to support the proper functioning of the urinary tract. In addition, ingredients such as vitamin C, which has antioxidant properties (protects against free radicals) and immunostimulants. It increases the absorption of iron. Cranberry Syrup with Vitamin C tastes great when diluted with water or added to hot tea, pudding or ice cream.
Contraindications:
- Hypersensitivity to the active components of the preparation
Indications:
Use the syrup to enhance the taste of beverages or desserts. Recommended as a source of vitamin C.
How to use:
Apply orally, discretion and needs. After opening the syrup should be stored in the refrigerator in a sealed container.