---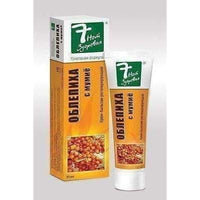 Sale
Cream - balsam Buckthorn With Shilajit 50ml.- skin damage, scratches, cracks
regenerating UK stock, FAST delivery.
High-performance cream-balm with a strong regenerating action.
· Has a high content of sea buckthorn oil and mummies,
· Use components of the highest quality: specially purified and Altai mummysea ​​buckthorn oil with a high content of carotenoids (not less than 200 mg%),
· Effect of the cream-balm strengthened with hyaluronic acid, a natural component that provides additional moisturizing, regenerating and healing effect.
Sea buckthorn oil and mummies - it's one of the most active natural components have anti-inflammatory, antiseptic, antibacterial and rapid wound-healing effect.
Sea buckthorn oil - the content of biologically active substances has no equal among the vegetable oils and contains more than one hundred medicinal substances. The sea buckthorn contains a record amount of vitamin E - tocopherol. The abundance of vitamins, trace elements, the presence of palmitoleic acid (rare in the plant world) stimulates the skin breathing and blood circulation, speeding up the healing of micro traumas to the skin.
Mummies - Strong biostimulator, reinforcing the regenerative processes in damaged tissues. From ancient times to the present day it is used as a wound-healing, antiseptic, tonic.
The cream-balm is used specially refined mummy.
Calendula has a sedative, bactericidal, analgesic effect. Aromatherapy has a pronounced effect on the subtle energy centers of the body.
Plantain due to the content of silicon and tannin has a great tonic and anti-inflammatory effects on blood vessel walls.
It has a disinfectant, antibacterial, hemostatic effect.
Hyaluronic acid - a natural product, effective skin moisturizer. Included in the intercellular substance of the dermis and long retains moisture in the skin. It improves skin condition, prevents the spread of microorganisms. It promotes the regeneration of skin cells . It gives the skin softness and smoothness.
Properties of the cream-balm:
· Effective for all types of skin damage, scratches, cracks, abrasions, minor burns and frostbite;
· effective for chapping of the skin and insect bites;
· eliminates irritation, itching, swelling, peeling;
· promotes rapid regeneration of skin cells;
· restores high functional activity receptors and cell membranes;
· actively mitigates, effective and balanced nourishes the skin;
· has excellent rejuvenating and restorative effects.
Composition:
water special cleaning, wax emulsion stearate, PEG-400, alcohols, C16-C20, monoglycerides, beeswax, mummy purified, calendula extract, plantain, oleate, PEG-400, lanolin, sea buckthorn oil, soybean oil, perfume, methyl paraben, propyl paraben, vitamin E, hyaluronic acid, peppermint essential oil, vitamin A.
Ingredients INCI: Aqua, Emulsirynig Wax, PEG-400 Stearate, Cetearyl Alkohol, Monoglyceride distilled, Beer Wax, Mumie, Calendula Officinalis Flower Extract, Plantago Extract, PEG-400 Oleate, Lanolin, Hippophac Rhamnoides Oil, Glycine Hispida Oil, Parfum, Methylparaben , Propylparaben, Tocopheryl Acetate, Hyaluronate Sodium, Retinol, Mentha Piperita, Retinol.
Contraindications:
idiosyncrasy components.
How to use: Apply to the skin with light massage movements until completely absorbed.
Store in a dark, cool place at temperatures not above 20 ° C. Shelf life 24 months.
EXP. Date 07.2016
Produced: "Dina" Moscow, Russia.
All items are New and of high quality and All will be checked before packing..
Delivery time is approx. 5-20 business days to most destinations:
~3 business days to UK
5-10 business days to Germany
10-25 business days to USA/ Canada
10-15 business days to Australia
5-14 business days to Europe
PLEASE NOTE: DUE TO SECURITY MEASURES.
WE ARE EXPERIENCING SIGNIFICANT DELAYS IN DELIVERIES TO RUSSIA.
IT TAKES ABOUT 45 WORKING DAYS FOR ITEMS TO ARRIVE.
Shipping & delivery
We offer free delivery to the United Kingdom via Royal Mail.
Goods are dispatched within 48 hours during the business week.
Payment methods
We process all payments through PayPal, you can pay with your PayPal balance or by using your credit card. All information is encrypted using SSL encryption, which prevents unauthorized access to card details. We do not store card details after the transaction has been carried out.
Payment
We are happy to take Paypal payments from anywhere in the world.
Postage
U.K
All orders are sent within 48 hours of cleared payment. All items are sent first class in plain white padded envelopes and postage is Free.
International
All orders are sent within 48 hours of cleared payment.
We are happy to offer postage discounts
but in order to get this discount you need to click the commit to buy button in each of the listings
you want then don't pay but request an invoice.
We will not refund any postage if you have already paid.
Orders within Europe are sent via Royal Mail International Standard (formally Air Mail) for just £4.99
Orders to the rest of the world are sent via Royal Mail International Standard (formally Air Mail) for £4.99
Questions
If you have any questions feel free to ask. We do our best to answer all question within 48 hours (usually alot sooner).
Packed for Russia : THE BOX AND THE INFORMATION LEAFLET IS IN Russian LANGUAGE.